I love a good surprise.
I'm usually on the giving versus receiving end, so helping surprise a room full of celebrities by showing up on stage with Cher was a delight.
But this time, I got got.
First of all, being in New York on tour in rehearsals for the Met Gala and keeping it a secret from everyone in my world was challenging, especially since the majority of my NY family are in the business. The NDA we signed just to rehearse in the museum was three pages. We were asked to remove any swag with Cher's name on it just so that set-up staff working the event could infer nothing. I'm still not sure from my conversation with Harry Styles backstage before the event if he even knew whom he was introducing. And staying mum was not just a matter of NDA job requirement, it was also about protecting myself.
The thing is, I am a hopeless fashion tragedy, a disgrace to prided homosexual values (however stereotypic), a parade of rebellion against efforts to look fabulous all the time. My gay card was temporarily revoked regularly by colleagues and friends – especially when I was on Broadway. Compounding the abomination was my tendency to drape large flowy clothes all over what they consider a brilliant frame; this was wasteful. I reminded them that as a dance captain on Broadway maintaining the show and putting people in it, I was basically always in rehearsal or performing, so why add costume changes? And I loved winter because layering was essential (and slightly forgiven). Still, out of love, Motown the Musical friends were the worst:
"No, Jamal, that's not tight! Those pants don't even fit!"
"The boot cut is done. Throw those away."
"You look homeless. Really, you do. It's not okay."
"Just don't wear anything. It would be such an improvement."
I made efforts to defend myself to approximate the sense that I was wounded by these attacks. But my lack of shame angered friends even more.
Eric LaJuan, who slayed his Jackie Wilson, Rick James and Billy Gordon roles nightly and would just shake his head in dismay every time I walked into our double dressing room, is in some corner of heaven—designer pants sewn onto his thighs—sipping a drink in disbelief.
Because the fact that I would now be at probably the most highly anticipated fashion event of the year is, well ironic—especially since I scarcely understood its industry importance.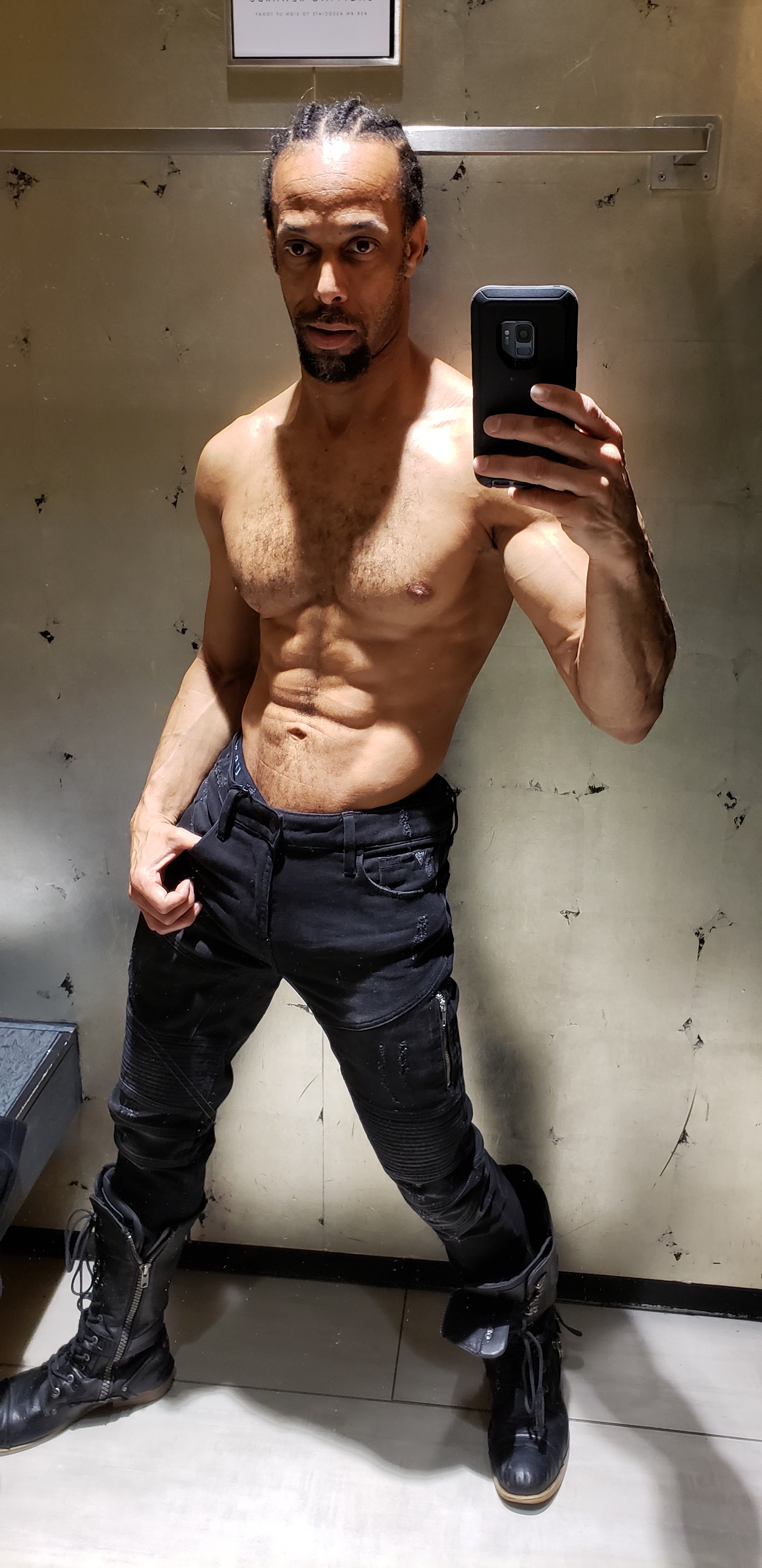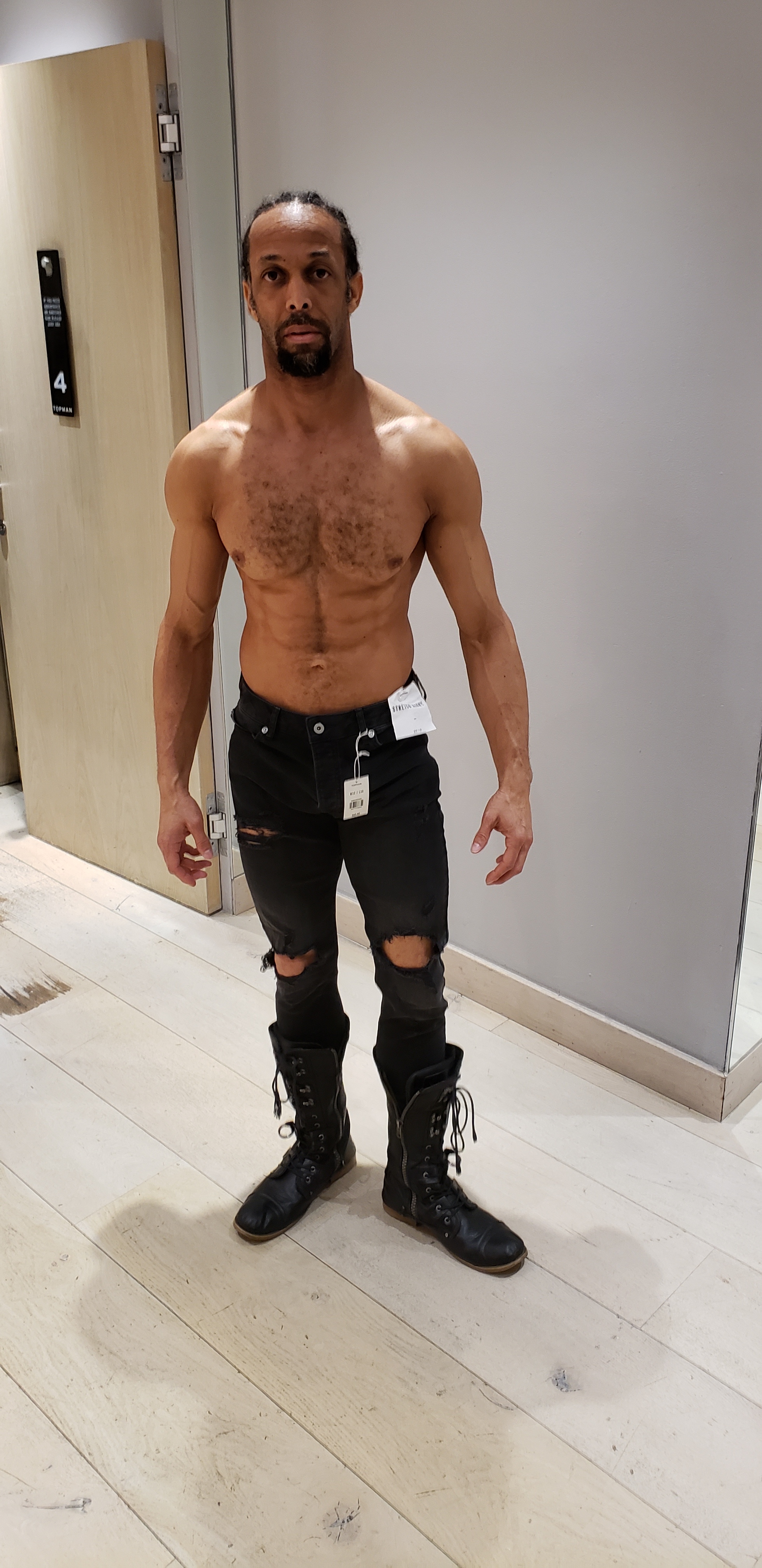 Here is how it went down:
In rehearsal for the Gala, Diana Craig Patch, curator for the Egyptian collection at the Met, gives us a crash course in the fragile 1st Century BC sandstone Temple of Dendur, in front of which we would dance but not face squarely while exhaling. I hug Bob Mackie. I joke with Baz Luhrmann as he stands in for Serena on stage left so that Melanie can incorporate into the rehearsal escorting her to her mark. We space the numbers and then started running things. When I am standing on the platform far out into the house, I spot an impossibly statuesque and short woman below me whose hair brings to mind Anna Wintour. I smile at her mid-step, connecting no dots.
Later, she comes over and thanks us all for being there, honored that we are performing. She says other things as well, but I am busy berating myself for not processing sooner who she is, for not remembering that she annually coordinates the hell out of this event. I am cutting my eyes up at Eric whose I-told-you-so's drop down and side-saddle every word Anna Wintour speaks.
"I just want to know," Ms. Wintour asks, "what will you all be wearing?"
Now, understand that I am on my knees talking to Cher when she arrives, and although the entire creative team are there, I am closest in proximity. Yet for an answer, she looks dead at me. Not Melanie, who had the microphone for most of the rehearsal, not Cher or her famous manager who are sweating distance from me.
And this is the real one, so yes, yes, that was a question, directed to the one person who could scarcely remember the colors of the costumes, let alone reference anything in the lexicon of fashion that would quickly get the paragon editor of Vogue the gist.
"As little as possible, of course," I say.
Laughter.
Relief.
"That sounds great," she says.
But I was not out of the woods. A last-minute change required that I go buy a pair of stylish pants with holes in them, pants that fit. My large open sweater with the hood worked great provided I wore it with no shirt. But now I had the painstaking task of trying to dress this body.
For a number with Cher.
At the Met Gala.
Eric Lajuan is now surely in a full kiki, as I tromp from store to store trying on pants, irritated at how invasive they are, taking pictures to send to Baz Halpin (yes there were two), determined to find more boot options so as not to deal with exposing my Achilles—which is the new style. I long for the bell bottom to come back. Has nobody read about Achilles and how Paris of Troy slew him?
I consider this, as well as my healthy level of respect for Anna Wintour, who has taught naysayers the ways in which fashion affects all the business sector industries that consider themselves more important. This is reason enough to surrender to the task at hand.
Of course, my private fashion odyssey proves worth it – the surprise Cher unleashes on that camp-clad room of celebrities is epic. While we wait, I teach Harry Styles how to pony backstage right side where we warm up - he learns quickly! Soon after, Lady Gaga and dancers from the hit show Pose stand by so that she can introduce them. In their blue and green catsuits festooned with keychains, key rings and keys, they turn it. I understand a few of the keys may have sailed into some of the camp drag in the audience, but it seems entirely appropriate for gay house culture to smack our consciousness any time it can.
Then, as is the case with "special appearance" gigs, the variable come fast:
Serena is stunning.
The stage is slick as hell.
Tracee Ellis Ross looks amazing. Flirt with her.
Watch your boss because stage left is slickest.
What did we decide for this non-shield alternative here?
EPHRAIM SYKES???
JAWAN JACKSON??
This is the moment I get got. Surprise! Two family members from Motown the Musical along with others I love from the close knit black Broadway tribe, make themselves known to me. They are here no doubt because of they are amazing as The Temptations in Ain't Too Proud. So no it is not handsome RuPaul or ecstatic Sarah Paulson or real marvel(ous) avenger Naomi Campbell who surprise me. It is my talented friends who are there to witness me at this fashion event.
I gag in high definition.
When it is time for me to leave the stage and trek to the platform at the edge of the audience my friends accost me. We have a quick, hug festival reunion, temporarily leaving the Met Gala and entering the bliss of comfort that only comes with this kind of familiarity.
Word to the wise: when an icon is on stage, everyone does everything they can to get close. We are as far away from it as possible at the platform, so the bulk of my audience are the dancers from Pose. I could not have asked for better. Never in my career was a developpe a la seconde into a back fall more necessary.
I finish the number, exit, make the costume change into our black for If I Could Turn Back Time and come back to stage. Because we were added at the last minute, the dancers are thinking about blocking. I am no exception. Even with 17 years of hearing the song in shows, I work to bring it to my consciousness. Punch on turn, back and time. Peace out on reach, the and stars. Switch positions on key cues…
I dash past the many celebrities at the King Arthur-style table on house right to make it to the platform for the end of the number when I realize that Serena is not on the corresponding side of the party; she is where I first saw her stage right. This means Melanie cannot escort her on to the stage.
After Cher leaves, I fly past the King Arthur table, run up the stairs, sprint across the stage to the other side and jump off of it to land in front of Serena.
I extend my hand.
"I got you."
She comes with me up the stairs. Crisis averted.
There is a misconception that because you perform at the Met Gala you are attending the Met Gala. It's hogwash. The minute we are done, we are whisked to the green room to get out of costume and beat the parade of Escalades and Cadillacs getting stars out of the building.
I peel off the Top Shop pants, cursing (and missing) my Broadway family and friends.
Then over a very strong margarita, I work out how to tell this story. I am wearing a large, blissfully comfy pair of black sweat pants…